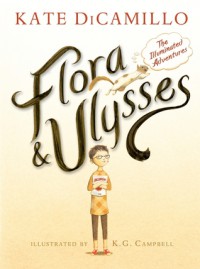 She stood at the window and watched as the squirrel was vacuumed up.

Poof. Fwump.

""Holy bagumba!" said Flora.

- from the back cover
Not to go overboard or anything, but I LOVED this book. I mean, the main character (besides the little girl, Flora) is a SQUIRREL. When I was a kid, my favorite animal was a squirrel. I had stuffed animal squirrels, china squirrels, pewter squirrels, squirrel banks, squirrel bookmarks, and on and on..... The only thing I didn't have was a pet squirrel. If I had read this book as a child, this would have been a favorite for sure.
Flora is a great character; she describes herself as a natural-born cynic, but we can tell that she wants to hope. And Ulysses, well he is a squirrel. Before the accident, he is just a normal squirrel whose thoughts focus on one thing, FOOD. After the accident, Ulysses still thinks a lot about food, but he thinks of many other things as well, including poetry.
This story is charming and quirky and full of meaning and hope. I enjoyed every minute of reading it. The only reason I didn't give it 5 stars, is because I have a hard time giving 5 stars. Lord of the Rings gets 5 stars, some of the Harry Potter books, the first Hunger Games book...
Bottom line, Kids should read this book!! And adults too, especially if you are fond of squirrels. ;)
Recommended to:
Grades 3 and up. Kids and adults who enjoy animal stories, fantasies, super heroes and really fun adventures.
--I read this book as my award winning book choice for my Information Needs of Children class. :)