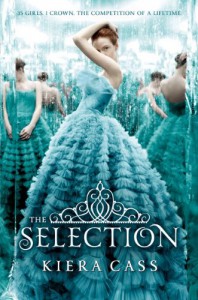 In the world of The Selection, there are 8 different castes or levels in society (1-8). Ones are the highest level and have the most money. Eights have the least of everything and many are homeless and starving. The Selection itself is the process by which the prince chooses a wife. One woman from each province is chosen to meet the prince (a total of 35). They live at the castle and the prince gradually narrows the group down to the woman he wants to be his wife. America is disgusted by the whole process and has no interest in participating. But her mother insists that she enter. They are Fives and could use the money this opportunity would bring, even if America is not chosen. Then America's secret boyfriend, Aspen also insists that she enter. Aspen is a Six and he feels like he would be holding her back if she doesn't enter.
America finally agrees to enter. After all, what are the chances she will even be chosen to participate...
My opinion
First I have to say that I enjoyed the book and I am already well into the second one. But, I must admit that I am a little annoyed by love triangles. Maybe it's just me, but I really don't understand why these girls are always so wishy-washy. Other than that, America is a very strong and admirable female character and a good role model. She stands up for what she believes in and doesn't try to change herself to please others.
(show spoiler)
Anyway, I definitely enjoyed the book and I am enjoying the second one as well. I love the world and the story and the characters. The other women in the selection have a lot of different personalities and the rebel attacks keep it interesting too. And watching America and Prince Maxon together kept me on the edge of my seat.
Recommended to
Fans of dystopian novels who enjoy love triangles and strong female leads.